Comics pour Graffiti
Première exposition parisienne de MARK BODÉ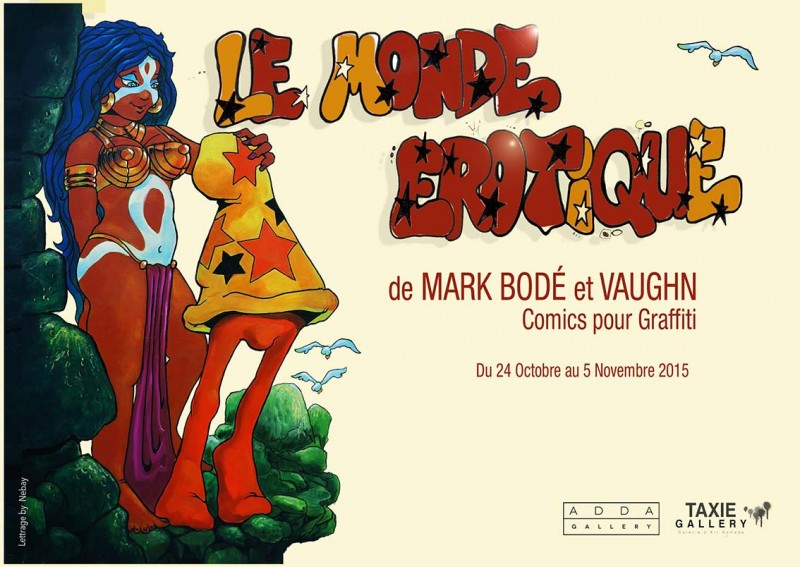 Du 25 Octobre au 5 Novembre 2015
Fils de VAUGHN BODÉ – auteur important de Comics book underground américain des années 70 avec Gilbert Shelton et Robert Crumb – MARK BODÉ profite de son exposition parisienne pour rendre un fervent hommage à l'œuvre de son père. Et alors que quelques années avant sa mort prématurée en 75, VAUGHN se rend à Paris et y rencontre Moebius, Tardi et Druillet c'est aussi ici pour MARK, une occasion de renouer avec une partie de son histoire
Sur une trentaine de toiles de MARK, des plans de métro newyorkais peints inédits, mais aussi des dessins originaux de VAUGHN, des sculptures et des souvenirs personnels jusque là conservés au secret, l'exposition met l'accent sur le style BODÉ et les personnages qui ont fait sa renommé.
Bubble Letters, femmes Broad Bodé et Cheech Wizard, ont fortement inspiré la scène émergeante du Hip hop newyorkais et les artistes précurseurs du graffiti. Dondi, Seen ou encore Tracy 168 s'accaparent le style et en font un des éléments fondamental et emblématique du Spray Can Art.
A la mort de VAUGHN, MARK reprend fidèlement la plume paternelle et veille depuis sur son héritage stylistique.
Une édition limitée et signée de MARK BODÉ sera produite à l'occasion de cette exposition.
Et en avant première la présentation de son dernier livre « The Book of ME par Cheech Wizard".
Exposition organisée en collaboration avec Taxie Gallery.